Big Truck Signs
Blazing Technologies, Inc. announces its newest product in the Oversize Load Sign line of products. The design is based on the same successful design as the pilot car models with expanded metal to save on fuel and laser cut letters with an extremely durable powder coat finish. Blazing Technologies, Inc. has sold these signs in just about every state in the country and is expecting the new 7 ft design to be in just as much demand. The folding feature makes it so that when an oversize load is not being transported; the letters are hidden, thereby allowing it to stay on the vehicle. These products are made from steel materials with the finest quality and workmanship. All sign products are powder coated in two parts, first a zinc primer powder is applied and baked on the steel and then the top coat is applied and baked on the product to create a superior weather resistant finish.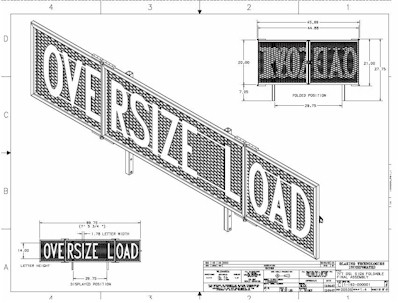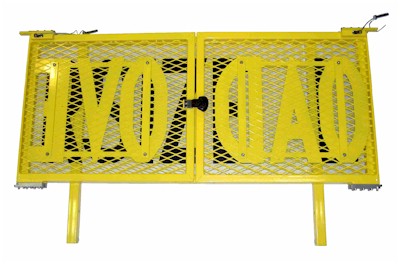 Part Number: 1192000001
7 ft OSL Sign - Steel
This sign is designed for ease of use, durability and theft resistance. Constructed completely of steel. The frame is lightweight steel tubing and the sign background is stainless steel mesh to reduce wind resistance with laser cut lettering. The frame has mounting legs which can be used to mount to any number of mounting structures on the truck. Custom mounts are available upon request. The sign is 7' 5" foot wide by 20 inches tall when unfolded to its usable position, and 45" wide by 20 inch tall when folded to its closed position. The welded steel mounting legs are 7.25 inches tall. The letters are 14 inches tall with 1.75 inch font widths. The unit weighs only 55 pounds.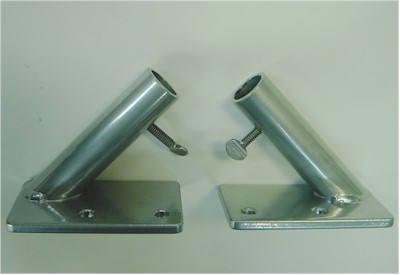 Part Number: 3192000002
Flag Holder Kit - for 7ft OSL Sign
These flag holders are designed to bolt on to the bottom of the 7ft BTI OSL sign. The holder tube is designed to accept a 3/4 inch flag post, is 4.5 inches long, and oriented at a 45 degree angle with stainless steel thumb screws to hold the flag post securely in position. Constructed of steel and powder coated chrome. Kit includes left hand and right hand flag holders and weighs 3.5 pounds.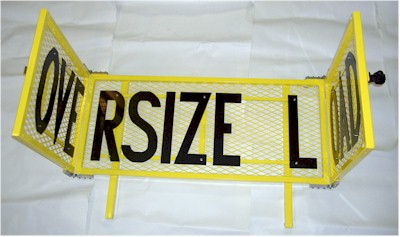 Part Number: 3192000003
7ft OSL Sign - Letter Set (3 pieces)
Steel laser cut letter coated with zinc primer and safety yellow powder for a long lasting and durable weather finish. Letters are powder coated black on one side and are made to mount to the foldable 7ft truck BTI Oversize Load Sign frame as a replacement or add them to your own sign frame. Letter details attach with #10 stainless hardware included in the kit. Letters are 14 inches tall and 79 inches wide when put together. Font width is 1.75 inches. Letter kit weighs 11.70 lbs. (Letters and hardware only in the kit, 7ft OSL Sign shown for clarity and application)